Follow on Twitter @yourboyham11
Like on Facebook What's The Action
---
Larry Nance Jr. commits homicide on KD. Kyrie & Oladipo duel in Indy. Mirotic & the Bulls win their 6th straight. Jimmy takes over in Minny. Russ takes over in OKC. And everything else from a wild Monday in the Association. It's the Hoops Roundup for Tuesday, Dec. 19th, let's get it… (Oh yeah Kobe got his number(s) retired too)
---
Scores from Monday, Dec. 18th
Boston 112  –  Indiana 111
New York 91  –  Charlotte 109
Miami 104  –  Atlanta 110
Philadelphia 115  –  Chicago 117
Utah 99  –  Houston 120
Portland 107  –  Minnesota 108
Denver 94  –  Oklahoma City 95
Phoenix 97  –  Dallas 91
LA Clippers 91  –  San Antonio 109
Golden State 116  –  LA Lakers 114   (OT)
---
Boston 112  –  Indiana 111
Boston  (26-7)
Indiana  (17-14)
Victor Oladipo (38p/5r/3s on 13-23 shooting).
Kyrie Irving (30p/4a on 12-23 shooting with 5 threes).
The two best guards in the East.
Borderline MVP candidates.
No Russ. No LeBron.
Free to control the game.
Making plays down the stretch.
Insane shotmaking.
Force of will.
Clutch gene.
Big buckets.
Basketball.
You know this one had to end on a Bojan not Bogdan Bogdanovic giveaway turned Terry Untouchable Trade Asset Rozier dunk. YOU KNOW IT DID.
Because the city of Boston really needed to pull another win out of it's ass this week. The Fake Spike never works Bojan! Just throw it away and take the field goal Bojan! What the fuck are you doing Bojan!
I don't think there was or would be any push back on this take, but I think it's safe to say at this point that "Victor Oladipo, top 20 NBA player" is the new normal. He's been the second best guard in the East behind Kyrie this season, and actually outplayed him last night despite getting hounded by Jaylen Brown and Marcus Smart all night.
He's posting 24.9p/5.5r/3.9a/1.8s/1.0b a night. Slashing 48/43/78 shooting percentages. Finishing at the rim and draining from deep. And consistently outplaying some of the best wings in the game on both ends on a nightly basis.
Dude should be starting the All Star Game, and is at worst a Third Team All Pro guard through 1/3 of the season.
---
New York 91  –  Charlotte 109
New York  (16-14)
Charlotte  (11-19)
No Porzingis for a second straight game, no Hardaway Jr. for a ninth straight, and a combine 2-15 shooting night from Courtney Lee and Doug McDermott led to a predictable result in Charlotte.
Mike Beasley followed up his legendary 30 point Saturday performance overshadowing Melo's MSG return that I will one day tell my grandchildren about with a respectable 23p/9r night. One more encore of Saturday for your favorite player's favorite player.
But Frank Kaminsky went for a season high 24 points with 5 threes on 10-13 shooting to give Charlotte just their second win in their last eight games.
---
Miami 104  –  Atlanta 110
Miami  (15-15)
Atlanta  (7-23)
Taurean Prince (24p/7r/3a) and Dennis Schroder (23p/6r/6a) continued their quietly quality despite nobody caring seasons for the last-place Hawks, outplaying Josh Richardson (26p/4r/3a/3s/2b) and Dion Waiters (23p/3r/5a) in what I'd probably call a matchup of the two least interesting teams in the NBA right now.
Accordingly, this game featured one highlight and one highlight only…
…which was this poor girl puking her brains out behind the Heat bench while valiantly attempting to catch it all in her hand. I'm not gonna sit here like I'm some shining example of bodily control. But when you've got one coming down the pike like that your hand is no better than one of those wooden barriers on a police chase. All you're doing is spreading shrapnel lady.
Atlanta sports!
---
Philadelphia 115  –  Chicago 117
Philadelphia  (14-15)
Chicago  (9-20)
On October 17th, Bobby Portis broke Nikola Mirotic's face at practice. Like he literally broke his face. Mirotic would go on to miss the first 23 games of the regular season
On December 7th, the Bulls gave up a 14 point fourth quarter lead to the Indiana Pacers. It was their tenth straight loss, and 15th of their last 16. They were 3-20, the worst record in the NBA. It was their last game without Nikola Mirotic, who would return from a broken face the next night.
Last night Nikola Mirotic led the Bulls to their sixth straight win. He went for 22p/13r. With three minutes left he blocked Dario Saric which led to Kris Dunn's game-tying three. Next possession he stole the ball from JJ Reddick, then gave Chicago the lead on a little turnaround in the lane. With 41 second left he drained the dagger three to put Chicago up 117-112.
The Bulls are now 6-0 with Nikola Mirotic. After a 6 point night in his debut, he's averaged 23.2p/8.2r on 54.1% shooting in his last five games. He's hitting 3.4 threes per game at a 51.5% clip. And he's now led the Bulls–THE CHICAGO BULLS–to six straight wins over Charlotte, New York, Boston, Utah, Milwaukee, and Philly.
And I have no idea what direction up is.
Also shoutout to Kris Dunn (22p/4r/6a), who has very quietly developed into a pretty solid young NBA point guard. He's averaging 13.3p/4.7r/5.2a, fourth in the NBA at 2.0 steals per game, and raised his shooting slashes from a horrific 38/29/61 up to a pretty damn good 44/39/64, minus the free throws.
Jimmy Butler is a borderline MVP candidate (see: below) with a year and a half left on his contract. I'm not comparing the trade to the disaster that both OKC trades seem to be so far. But if we've learned anything this season (see: Oladipo, Victor) it's that we should probably get a little better at reserving judgement on these major offseason trades. Dunn/LaVine/Markkanen/Top 3 2018 pick isn't exactly the '09 Thunder – but it's not the worst core I've seen either. Flip Mirotic at the deadline and you might really have something.
---
Utah 99  –  Houston 120
Utah  (14-17)
Houston  (25-4)
Eric Gordon scored 33 points on 12-18 shooting, including 7-12 from three.
Clint Cappella went for 24p/20r on 10-12 shooting.
And Harden and Paul added 44p/15r/16a between the two of them to lead the laughably unbeatable Rockets to their 14th straight win.
They've got the two LA teams at home leading into a Christmas day game at OKC that could be really fun depending on which OKC shows up.
But what I'm really looking forward to is the road back-to-back they have at Boston and at Washington next Thursday (12/28) and Friday (12/29). If they survive those two they could be going for 22 straight hosting Golden State on Thursday, January 4th and OH BUDDY am I already juiced for that.
---
Portland 107  –  Minnesota 108
Portland  (16-14)
Minnesota  (18-13)
Jimmy bounced back from a bad showing against Phoenix (10p on 5-18) on Saturday to absolutely dominate in this one – going for 37p/6r/4a/3s on 12-21 shooting, hitting 2-3 from distance while getting to the hoop or to the free throw line (11-12) at will down the stretch. And he did it in only 35 minutes – Thibs is learning! (never mind, KAT still played 41)
He got some fourth quarter help from Jamal Crawford, who scored 16 of his 23 in the fourth quarter and hit some perfectly Jamal Crawford shots in this one down the stretch.
---
Denver 94  –  Oklahoma City 95
Denver  (16-14)
Oklahoma City  (15-15)
Russ paid fitting tribute to Kobe on Kobe Night, putting up monster stats for his borderline playoff team, helping exactly one teammate get to double figures (Abrines, 11 points), and going for 16 points and 0 assists in the fourth to pull the Thunder back to .500 on the season after losing to the Porzingis-less Knicks on Saturday. MVP. MVP. MVP.
*throws into the NBA twittersphere and turns off mentions*
Jokes aside and in Russ's defense they needed every bit of Kobe-Russ last night with no Adams (concussion protocol) and basically no George or Melo either (14 points on 5-19 shooting between the two). We're about two weeks away from "trade Paul George" talk really heating up, so I won't jump the gun. But just know we're close.
---
Phoenix 97  –  Dallas 91
Phoenix  (11-21)
Dallas  (8-23)
Alex Len (14p/14r/4a) and Isaiah Canaan (17p/4r/6a/3s) led the Suns bench on a 30-10 second half run for Phoenix's second straight win.
---
LA Clippers 91  –  San Antonio 109
LA Clippers  (11-18)
San Antonio  (21-10)
Pop is bringing Kawhi along slowly, playing him just 16 minutes again in an easy Spurs route here. Part of which I'm guessing is to help LaMarcus reacclimatize himself to playing second fiddle. LaMarcus went for 19p/8r on 7-13 shooting, his most efficient of the three games Kawhi has played so far. The two have yet to find a way to peak simultaneously over the last few years. Maybe the confidence boost LMA has had over the last two weeks as the first option will change things.
San Antonio has a three games in four nights road trip starting Wednesday in Portland. I'm guessing Kawhi will sit the middle game. After that it's a relatively easy stretch through the first three weeks in January leading up to a January 23rd matchup with LeBron and Cleveland. Hopefully Pop has Kawhi and LMA meshing well together by then.
---
Golden State 116  –  LA Lakers 114   (OT)
Golden State  (24-6)
LA Lakers  (10-18)
Kobe got his jersey(s) retired. This game went to overtime. But first…
DUNKS
MORE DUNKS
BLOCKS
MORE BLOCKS
And the young Lakers drove the Warriors to OT on the backs of Ingram (19p/6r/5a), Ball (16p/6r/6a), Randle (15p/11r/2a), and Kuzma (25p/6r/3a).
But even after getting Murder One'd twice by Larry Nance Jr. and Julius Randle in the span of one hour, KD finished of a 36p/11r/8a/3b night with a Kobe-esque dagger right through the heart of LA in front of Kobe himself.
Just kidding Kobe left before OT.
Speaking of Kobe…
---
Around The Association
Kobe got two
…numbers retired last night
I've slandered Kobe more than enough on this blog and I'm in the Christmas spirit so there's no need to play grinch here. The two jerseys is ridiculous, but it's not like there was any other way to do it. Nobody was wearing either of those numbers again.
And as someone who started a ridiculous online passion venture that he forces down everyone's throat, I appreciate Kobe making everyone watch an animated short film at his jersey retirement.
This is gonna sound wild here… but in a weird way, Kobe is a lot like Mike Francesa. Super driven, hyper competitive, extremely confident guys at the top of their field… who only became self-aware of their online perception late in their career… and who were so cocksure that they acknowledged and then fully embraced that perception without changing a thing.
Last night wasn't quite as perfect as Mike Francesa taking five hours of "thank you Mike" calls for his final show last Friday, but then again Kobe was never one to live up to the GOAT anyway. Am I right fellas!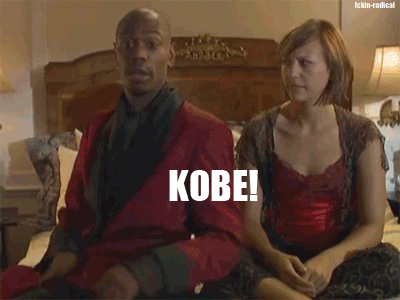 Also how about 56-year-old Jeanie Buss out here looking like 90's Britney? Phil must've whipped his pipe at the TV that man's gotta be sick.
And lastly shoutout to Bill Russell, who has not stood voluntarily since nineteen sixty never.
---
Schedule for Tuesday, Dec 19th
7:00   Sacramento  @  Philadelphia
7:00   New Orleans  @  Washington
8:00   Cleveland  @  Milwaukee     NBATV
---
---