Follow on Twitter @yourboyham11
Like on Facebook What's The Action
---
Frank Ntilikina Big Baller Branded Lonzo with LaVar on hand at the Garden. The Process Sixers outlasted Jimmy Butler and the Wolves in OT. LeBron went Point Guard LeBron. And Kawhi is BACK. It's the Hoops Roundup for Wednesday, Dec. 13th. Let's get it…
---
Scores from Tuesday, Dec. 12th:
Atlanta 114  –  Cleveland 123
Denver 103  –  Detroit 84
LA Lakers 109  –  New York 113  (OT)
Washington 98  –  Brooklyn 103
San Antonio 89  –  Dallas 95
Philadelphia 118  –  Minnesota 112  (OT)
Phoenix 92  –  Sacramento 99

---
Atlanta 114  –  Cleveland 123
Cleveland  (20-8)
Atlanta  (6-21)
One of my early goals for 2018 is to get myself a little more involved in the numbers game. Nothing fancy. Not gonna sit here and toss out advanced analytics. But I'd like to at least find a few little stat nuggets per night that make you say "oh shit, no doubt" and hopefully make us both a tiny bit smarter as basketball fans.
Since this is the first go at this lets kick it off right at the tippy top with the still best player in the world as he continues to John McClain his way through the Association this Christmas season.
LeBron played point guard LeBron last night, dishing out 17 assists to go along with 25 points (on 11-13 shooting).
8 of those 17 assists led to three pointers, bringing LeBron's NBA-leading total on assisted threes to 126, or 4.5 per game. LeBron is averaging 9.0 assists per game, which means that exactly half of LeBron James' assists this season have led to three pointers. That's efficient as hell.
Those 17 assists last night led to 42 points. Add that to his own 25 and LeBron created 67 points last night. He's creating an average of 52.6 points per game, second only to James Harden's preposterous 55.2 per night.
Cleveland hit a season high 20 threes on an efficient enough 38 attempts (52.6%) – including 2-3 from LeBron (25p/17a/7r),  4-5 from Love (17p/12r),  4-5 from Calderon (14p/4a),  and a very nice 6-9 from Korver (19p). And the Cavs cruised to an easy win over the usually scrappy Hawks.
Bang. Numbers.
---
Denver 103  –  Detroit 84
Denver  (15-12)
Detroit  (14-13)
The Detroit Pistons entered December the surprise darlings of the NBA. 14-6, coming off MONSTER back to back road wins at OKC and Boston. Stan Van had figured it all out. Tobias Harris was thriving. Andre Drummond had blossomed into a bonafide star. And they stared at a seven game stretch (@Was, @Phi, @SA, @Mil, vs. GS, vs. Bos, vs. Den) that, if survived, would fully cement them as a real contender in the East.
They just lost all seven games, culminating with their only real blowout at the hands of Jamal Murray and the still Nikola Jokic-less Nugs.
Murray poured in 28 on 11-19 shooting (4-8 from three) and tore the Pistons apart all night. Chandler (18p on 6-11 shooting) and Lyles (20p on 7-7 shooting) provided some frontcourt help in the continued absence of Jokic.
Denver is hoping Jokic is back tonight against Boston, a team he thrived against last season. Assuming he's back that should be a fun one tonight.
---
LA Lakers 109  –  New York 113  (OT)
New York  (14-13)
LA Lakers  (10-16)
UUUUUUUUUNICORN
37 points on 14-26 shooting. 5-8 from three. 11 boards. 5 blocks. One brand new Unicorn statline. All of the perspective…
My Large Beautiful OnlyFocusedOnWinning Unicorn Son. Shining on the World's Biggest Stage for the World's Biggest Baller to see.
Last night was a much-needed win for humanity and our general sanity and I'd say this moment captured that whole aesthetic pretty beautifully. I'm pretty tired of Spike at this point. But knowing how furiously mad everything about this moment made certain people last night warms the cockles of my heart.
Speaking of Big Baller, young Lonzo showed out in his first trip to the Garden last night. 17p/8r/4a/2s in 40 minutes, including a dazzling 3rd quarter right in front of LaVar and the rest of his family.
And then Frankie Smokes came in and gave Lonzo that GRANDE DEFENSE DE BALLEUR all fourth quarter long.
In addition to the defense on Lonzo, Frankie came out more aggressively on the offensive end than we've seen all season. He got to the paint on bigger defenders, trusted his shot, and showed more confidence on his passes than we've seen all season.
The Knicks are outscoring teams by 14 points per 100 possessions with KP and Frank on the court together. Frank is the youngest player in the NBA. I'm totally fine with Hornacek bringing him along slowly. But I'd like to see Frank get a few more minutes with KP out there over these next few weeks. The schedule is about to get a lot more difficult over the next month and a half. Time to throw him into the fire.
But the real star of the night was Mike Beasley, who came in and scored 12 of his 13 points in the fourth quarter and overtime and won this game.
Who else but Super Cool Beas could single handily swing a game like that just two nights removed from fouling out in 10 minutes to a standing ovation.
TATTOO THIS VIDEO ON MY FACEEEEEE
Happy Hanukkah from New York Knicks Legend Bob Amar'ley.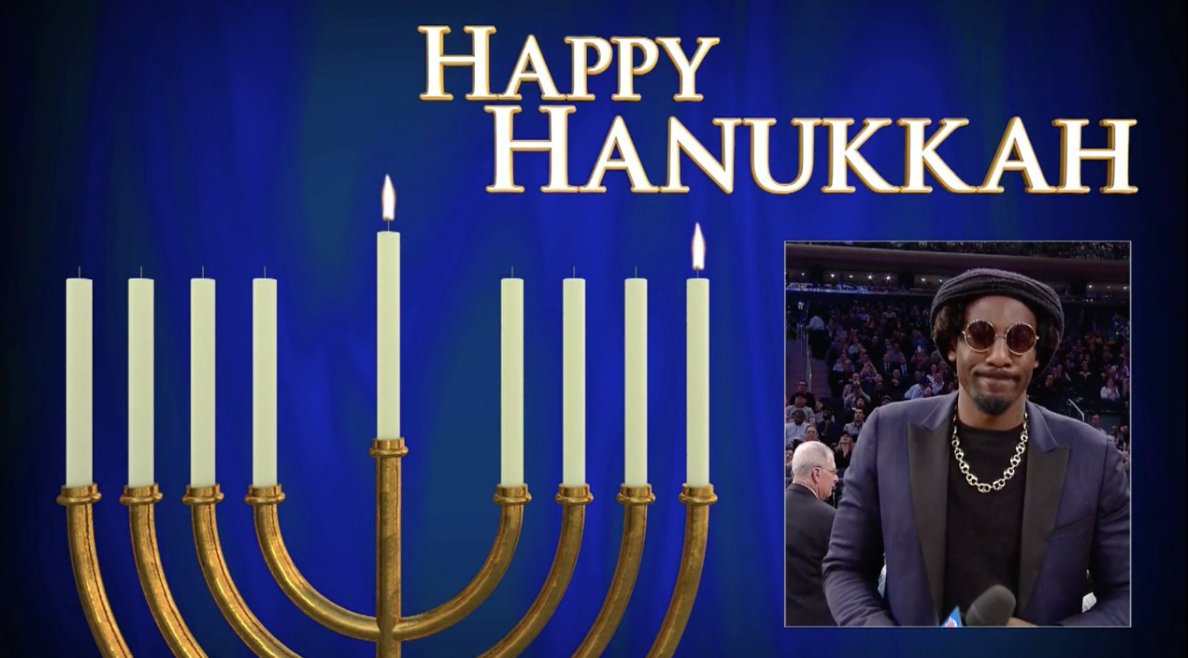 When Migos does a reggae album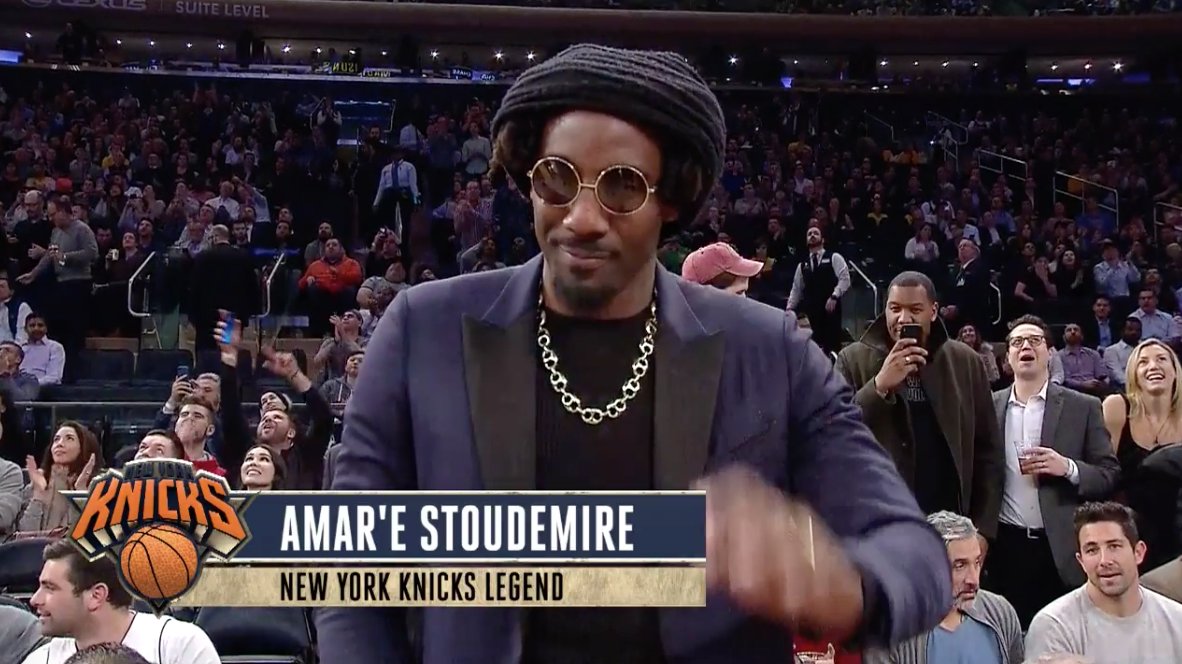 ---
Washington 98  –  Brooklyn 103
Brooklyn  (11-15)
Washington  (14-13)
Washington's last game before John Wall's return…
…and they played like a team that really needed him to return
Spencer Dinwittie went for 11p/6r/12a.  Rondae Hollis Jefferson had 16p/11r. And seven Nets scored in double figures for Brooklyn's fourth win in their last six games.
---
San Antonio 89  –  Dallas 95
Dallas  (8-20)
San Antonio  (19-9)
This season has been amazing. There's more talent than ever before. New superstars are emerging even as the established guys continue to thrive. The league's middle class is as strong as it's been in a long time. 22 of the 30 teams are genuinely capable of beating anyone on any given night. Ratings are through the roof. And even as things balance out… as teams begin to truly show themselves and nightly unpredictability begins to wane… the nightly competitiveness and quality of play is as good as I can remember in a long time. One third of the way through the season, things are great.
Oh and by the way, the third best basketball player in the world and last seasons should-have-been MVP just played his first game of the year.
KAWHI BYKE! Yes he only play 16 minutes and the Spurs–who won 19 of 27 in his absence–lost to the goddamn Mavs (maybe 23 teams are capable of beating anyone on any given night).
But he scored 13 points with 6 boards in those 16 minutes and it was awesome and I'm so happy he's back now because the Spurs play Houston and we get Kawhi vs. Harden on Friday night. KAWHI BYKE!
---
Philadelphia 118  –  Minnesota 112  (OT)
Philadelphia  (14-13)
Minnesota  (16-12)
WHAT. A. GAME.
An absolutely bonkers game in Minnesota last night that absolutely deserves the full highlight package.
What a game, crazy back and forth.
Some takeaways
Minnesota tan out of gas late, giving up an eight point lead with three minutes left. If I had to guess, I'd say it's because Thibs is running his starters into the ground by playing them almost 40 minutes a night. And that Butler (46 minutes) and Towns (48 minutes) were exhausted from spending most of their nights on Simmons and Embiid respectively. But hey, who knows?
Jimmy Butler is fucking awesome. That dude carried the Wolves on both ends last night, completely nullifying Ben Simmons (6 points on 3-8 shooting) while dropping 38p/6r/3a of his own. In fact, two of the three shots Simmons hit came when Jimmy was switched onto Embiid and Simmons snuck backdoor because Karl-Melo Anthony Towns (PUT IT ON THE BOARD!) was completely lost defensively. He hit big shot after big shot down the stretch until his legs finally gave out on the last possession and in OT. But that's understandable after 46 minutes of guarding Ben Simmons AND carrying the load offensively. By the way that was his 6th straight 40+ minute night even before OT. It's December 13th. What in the absolute fuck are you doing Thibs?
If Thibs doesn't run Jimmy into the ground, he'll finish this season in the top five of MVP voting. He's the sole reason this team is 4th in the West at 16-12, let alone that they even have double digit wins.
Towns bashing aside he actually did a respectable job defensively on Embiid in the second half for like three minutes. He then of course went right back to jumping at every pump fake like a fifth grader who started playing basketball this season simply because of his height. When great offensive players suck defensively it's almost always because of effort (Melo, Rose, etc.) or physical limitations (Love, Isaiah, etc.). This is the first time I can ever remember a player with such transcendent feel for the game offensively have absolutely ZERO feel for it on the other end. I like Karl but he might be the stupidest defender I've ever seen. Look at where he is on this play. DUDE WHAT ARE YOU JUMPING AT?
Again… WHAT ARE YOU JUMPING AT OUT THERE?
He also lost the offensive battle to Embiid, who went for 28p/12r/8a to Towns' 19p/16r/2a. Going into the season it was Giannis or Towns in the young big man debate, with Pozingis and Jokic behind and Embiid and Simmons unknown. I know two months in this could be a WILD overreaction, but the question for me is who's last in that group between Towns and Jokic. Give me Giannis, KP, Embiid, and Simmons over Karl-Melo any day of the week.
Trevor Booker was awesome, going for 12p/5r/5a/2s/1b in 20 minutes. Sorting out that big man rotation is still gonna be an issue, especially with how Holmes has been playing. But I love what Booker brings to that team. If I'm Philly I'm shopping Saric for some backcourt and wing depth.
---
Phoenix 92  –  Sacramento 99
Sacramento  (9-18)
Phoenix  (9-20)
There are a lot of games in a basketball season. A lot. But you'd be hard pressed to find a game that went more exactly how you expected than this went. Two of the worst and–not coincidentally–youngest teams in the league. No Devin Booker for Phoenix. And the two vets Z-Bo (17p/7r/5a) and Hill (18p/7r/3a) easily controlled a game of dumb, directionless youths like a couple of dads running 5 on 5 down at the Y before their legs give out.
Basketball is at it's best when competitiveness and unpredictability meet at their respective summits. But sometimes it's just as great two watch two old guys school a couple of helpless kids in the exact way you'd expect them to.
Except tonight. These two teams stink.
---
Schedule for Wednesday, Dec. 13th
7:00   Oklahoma City  @  Indiana     ESPN
7:00   LA Clippers  @  Orlando
7:00   Memphis  @  Washington
7:30   Denver  @  Boston
7:30   Portland  @  Miami
8:00   Utah  @  Chicago
8:00   Milwaukee  @  New Orleans
9:00   Toronto  @  Phoenix
9:30   Charlotte  @  Houston     ESPN
---
---