Follow on Twitter @yourboyham11
Like on Facebook What's The Action
---
Mask On Kyrie has the flat earth in the palm of his hand, the Clippers have quit on Doc Rivers, and Ben Simmons takes no days off. It's the Ham's Hoops Roundup for Tuesday, November 21st. Let's get it…
---
Scores from Monday, Nov 20th
Minnesota 102  –  Charlotte 118
Cleveland 116  –  Detroit 88
Indiana 105  –  Orlando 97
Utah 86  –  Philadelphia 107
LA Clippers 85  –  New York 107
Portland 100  –  Memphis 92
Washington 99  –  Milwaukee 88
Oklahoma City 107  –  New Orleans 114
Boston 110  –  Dallas 102  (OT)
Atlanta 85  –  San Antonio 96
Denver 114  –  Sacramento 98
---
Minnesota 102  –  Charlotte 118
Minnesota  (10-7)
Charlotte  (7-9)
Word association Frank Kaminsky what's the first thing you think?
Ball Control.
Frank The Tank poured in 24 on 9-15 shooting, including 4-5 from deep.
Folks I haven't seen an American Tank shoot like that since Patton drove back the Germans at Arracourt. Class is cancelled Wednesday. Enjoy your Thanksgiving break.
Dictionary definition of a Schedule Loss here from Minnesota, who was understandably sluggish traveling to Charlotte on the second night of a back-to-back after that battle with Detroit on Sunday. Jamal Crawford leading the way with 19 points says just about all you need to know, even if he does remain the End of the Quarter GOAT.
Me, dealing with all of life's minor inconveniences:
Oh and Dwight went for 25/20 whatever.
---
Cleveland 116  –  Detroit 88
Cleveland  (10-7)
Detroit  (11-6)
Detroit joined in their Sunday adversaries in taking that Schedule L, falling down early and tossing the towel with the utmost quickness to a Cavs team that is quietly but not so quietly starting to heat up.
LeBron scored 16 of his 18 points in the first 8 minutes and Cleveland hit 11 of 17 three point attempts in the first half and have now won six of their last seven since Arthur Meme Week commenced.
You might think sporting event proposals are tacky but how many women can say they were proposed to at a Palace?
Correction… in a Little Caesars*
True Love is dead.
---
Indiana 105  –  Orlando 97
Indiana  (10-8)
Orlando  (8-9)
I have a first month recap blog coming out Wednesday morning. I know it's a little past a month but I wanted to line it up for Wednesday because 1) there's only one game Tuesday night and 2) it's a long blog for you to read at work while counting down the hours until Thanksgiving Break.
Victor Oladipo scored 29 points on 8-19 shooting last night. He added 9 boards, 5 assists, and 7 (SEVEN) steals. He was the best player on the court – something that's happened many, many times this season. What I think you can gather by now is that there's a Victor Oladipo section in the blog Wednesday. See you guys then.
---
Utah 86  –  Philadelphia 107
Utah  (7-11)
Philadelphia  (9-7)
Joel Embiid. All-Pro Basketballer. All-World Troller. And quiet possibly the most important thing to happen to the NBA in the last 30 years.
Ben Simmons controlled this one from the jump, pouring in a career-high 27 points on 13-24 shooting while getting anywhere and everywhere he wanted on the court.
This is another one where I don't want to step on his section in tomorrow's blog, so I'll save most of it. But just quickly… the most remarkable thing about Simmons to this point is just how unsusceptible he is to bad games.
I can't remember a young player–especially one with as glaring a hole in his game as Simmons' shot–that has as few objectively bad games as he's had. Night after night he's getting where he wants and taking good shots and somehow defying the limitations that SHOOTING WITH THE WRONG FUCKING HAND should be imposing on him. Just the thought of him learning how to shoot at a borderline respectable level has to be mortifying to the rest of the NBA.
Good bit, good bit.
---
LA Clippers 85  –  New York 107
LA Clippers  (5-11)
New York  (9-7)
I think it's Prime time to send Doc Packing because this Rivers flowing faster in the wrong direction than the Amazon. Folks,,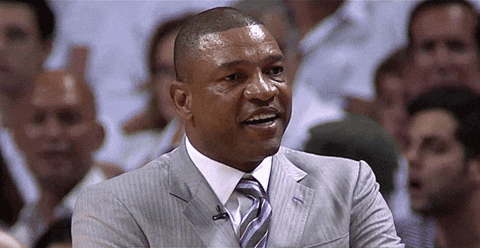 Seriously what's the over under with Doc at this point? Two weeks? One? Tomorrow morning?
It's one thing to lose nine straight games. It's another to lose that ninth one by getting boatraced on a night in which the Knicks… the New York Knicks… played their sloppiest game of the season and only got a measly 25/7/2/2/2 on 7-20 shooting with a +27 plus-minus from Kristaps Porzingis.
What's even the point of keeping him? The only person who wants Doc there less that the players who've blatantly quit on him is Doc himself. He's a shell of the scream-at-every-call Doc that we've come to throughly hate these last five years. Let him hit the links and hand the team over to the Goatee'd Gawd Mike Woodson for the next five months. Because watching guys like Pat Bev and Blake go through the motions in apathy is thoroughly depressing and Ubuntu Doc isn't walking through that door.
---
As previously mentioned… just a very underwhelming 25/7/2/2/2 with lockdown defense on one of the best bigs in the league from KP. Super underwhelming.
Thankfully he got a little help in the form of 16 boards from Enes Kanter and five threes from Dougie McBuckets. I'm not thinking about Melo you're thinking about Melo.
---
Portland 100  –  Memphis 92
Portland  (10-7)
Memphis  (7-9)
Dame returned from a rolled ankle in the first to score 21. Noah Vonleh pulled down 18 boards. Bazzy Napier added 16 off the bench. And CJ McCollum led the way with 24/8 on 8-17 shooting.
Speaking of CJ remember that little spat he had with Evan Fournier last week?
It was over this…
I love the NBA
---
Washington 99  –  Milwaukee 88
Washington  (10-7)
Milwaukee  (8-8)
I was going to write about the NBA's predictability issue here. I got carried away and wrote like 500 words so I chopped it out to put in the First Month Recap blog too.
TL;DR of that: if part of the NBA's predictability is knowing that we're 100% going to get a first round Bucks-Wizards series then I'm here for predictability. They're both so young and feisty, and wildly talented 1-6, and preposterously untalented down the rest of the roster. I can already see this series going seven games with the top six guys on each team playing like 40 minutes a night each because after Oubre and Brogdon the only bench players who will sniff the court are the 15 minutes Jason Smith and Thon Maker each get.
The Wiz pulled away late. But this was still a fun one. Worth the full 10 minutes highlight package watch.
I'm the most here for shit talking Giannis.
Brad Beal got Giannis with a backboard pin
So Giannis came right back and got Wall
I'm also loving the way Bledsoe has been easing himself into the offense. Not shooting a ton, not forcing it, but taking advantage of the opportunities. Love what I've seen so far.
---
Oklahoma City 107  –  New Orleans 114
Oklahoma City  (9-8)
New Orleans  (7-9)
Anthony Davis… very good at basketball. 36 and 15… 14 in the fourth… 18 of 22 from the stripe. Completely unstoppable down the stretch in 45 total minutes.
And New Orleans needed all 45 after Boogie got ejected late in the third. Was this worth of an ejection? Probably not. I don't think it's a stretch to say that Boogie's rep is 90% of what got him tossed here, so it's not like it's not his own fault. But Russ embellished the hell out of that.
Rondo played his most minutes so far (31) in his fourth game of the year. This whole roster construct is weird enough already, so it's gonna take time for them to figure it all out. But for the first time in as long as I can remember I'm weirdly optimistic about Rondo fitting in.
Meanwhile in OKC things are not fantastic. It's not panic button time by any means, but I'd at least be a little concerned that their last win over a .500 or better team was on against the Bucks on Halloween.
Also of concern… Victor Oladipo going for 29/9/5/7 last night and emerging as an All Star, Domantas Sabonis becoming a double-double machine, Enes Kanter turning back into a double double machine, and Doug McDermott hitting five huge threes last night as he continues to develop into a really nice bench player for the Knicks.
The "everyone is playing better once they leave Russ" narrative peaking just in time for OKC to get their doors blown off by Durant and Golden State on Wednesday. The Thanksgiving break will spare them from the media firestorm. But another week or two of this and things could get ugly.
They had some fun on the break though!
---
Boston 110  –  Dallas 102
Boston  (16-2)
Dallas  (3-15)
It's Kyrie's flat world, we're all just living in it.
9 of 9 shooting in the first half for 25 points
Kyrie is playing out of his goddamn mind right now. A lot on that tomorrow morning.
Also Jaylen Brown (22/9) and Jayson Tatum (15/9) continue to impress. Like… really impress.
---
Atlanta 85  –  San Antonio 96
Atlanta  (3-14)
San Antonio  (11-6)
Good bit, great bit.
Also… MANU FOREVER
---
Denver 114  –  Sacramento 98
Denver  (10-7)
Sacramento  (4-13)
Jokic went for 16/14. Will Barton poured in 25/6/5. And the Nugs cruised in Sac Town to an easy W.
---
Around The Association
Basketball star's father interviewed by the local news. That is all.
---
Schedule for Tuesday, Nov 21st
10:30  Chicago  @  LA Lakers     NBATV
Schedule for Wednesday, Nov 22nd
7:00   Washington  @  Charlotte
7:00   Brooklyn  @  Cleveland
7:00   Portland  @  Philadelphia
7:30   Toronto  @  New York
7:30   LA Clippers  @  Atlanta
7:30   Boston  @  Miami
8:00   Golden State  @  Oklahoma City     ESPN
8:00   Denver  @  Houston
8:00   Dallas  @  Memphis
8:00   Orlando  @  Minnesota
8:00   San Antonio  @  New Orleans
9:00   Milwaukee  @  Phoenix
9:00   Chicago  @  Utah
10:30   LA Lakers  @  Sacramento     ESPN
---
---