Follow on Twitter @yourboyham11
Like on Facebook What's The Action
---
Kristaps and the Knicks are absolutely rolling. No Embiid, No Problem for Ben Simmons and the Sixers. Boogie & the Brow dominate the Pacers. And Jokic has himself a night in Denver. It's the Ham's Hoops Roundup for Wednesday, November 8th. Let's get it…
---
Scores from Tuesday, November 7th
Milwaukee 119  –  Cleveland 124
New Orleans 117  –  Indiana 112
Dallas 113  –  Washington 99
Charlotte 113  –  New York 118
Chicago 114  –  Toronto 119
LA Clippers 107  –  San Antonio 120
Brooklyn 104  –  Denver 112
Philadelphia 104  –  Utah 97
Memphis 98  –  Portland 97
Oklahoma City 86  –  Sacramento 94
---
Milwaukee 119  –  Cleveland 124
Cleveland (5-6) 
Milwaukee (4-6)
LeBron (30-8-9) held off Giannis (40-9-3) again last night. It was his fifth straight win in this burgeoning rivalry – all competitive games in which Cleveland pulled away late. Compounded with his 57 point effort in Washington on Friday, it shows that Bron still can and will flip the switch when he wants to prove the point that he's still top dog in this league.
We're still a few years away from LeBron hitting the other side of the mountain. He's still getting better – even if he only chooses to show that on the handful of occasions in the regular season.
What I'm interested to see is how he handles having to do this much more than expected this season. Think of how many things are worse off than he thought. This is the worst set of teammates he's had in eight years… Their defense STINKS and he has to score to keep the Cavs in games… He doesn't have a real second banana anymore to help carry the load… The league's lower and middle class teams are stronger than ever… There are more superstars capable of pressing him on a given night than ever before. Even as he gets better, he's still in year 15. There are a limited number of bullets in that chamber. I don't think he expected to fire off as many as he already has – and I certainly don't think he expected to fire them off to no avail against teams like Brooklyn (41 min in a Loss), Chicago (37 min in a narrow Win), New York (39 min in a Loss), Indiana (37 min in a Loss), and Atlanta (41 min in a Loss).
I'm not hitting the panic button on Cleveland yet. They're an old team that's been to three straight Finals – I'm not concerned that they're giving little to no effort on defense. Nothing matters until April. What I am concerned about is that despite not needing to care much right now, you're still trotting LeBron out there for 40 minutes a night to lose games to bad teams. Play apathetically while resting LeBron, or play LeBron and give a shit on defense. You can't do either or.
Giannis. Continually outrageous.
Cleveland also got a monster 32-16 night from Kevin Love and a long overdue 20 points on 5 threes from JR to help LeBron outlast Giannis, Khris Middleton (20-7-11-3), Brogdon (22-5-6) on the night Milwaukee traded for Eric Bledsoe – which I'll get to later in the blog.
When she brushes her teeth and puts in her retainer before bed.
With the way the game is headed, he's unlikely to remain up here for long. But the thought of JR Smith getting his name into the top ten of any all time NBA list warms the cockles of my heart
---
New Orleans 117  –  Indiana 112
New Orleans  (6-5)
Indiana  (5-6)
The Twin Towers put up another preposterous stat line and continue to be the hardest team to peg in the entire NBA. I just… I have no idea what to make of them. And they're such a uniquely built team that I don't know if there's been a good litmus test for them yet.
They have two teams with strong front lines the rest of this week–the Raptors Thursday and Clippers Saturday–that should provide for some fun battles.
Never stop being Lance, Lance.
---
Dallas 113  –  Washington 99
Dallas  (2-10)
Washington (5-5)
Dennis Smith, bunnies.
The rook put up his best game of the season, going for 22-8-8 and looking totally unafraid to go right at John Wall (23-3-14) and Brad Beal (23-4-2)Dallas
Dallas also got 31-9 on 11/18 shooting from Harrison Barnes to lead Dallas to just their second win of the season
---
Charlotte 113  –  New York 118
New York  (6-4)
Charlotte  (5-6)
BANG!
MOOD
I FEAR NO DEFICIT
I don't want to call myself a hero here, but it has taken EVERYTHING I have not to slather my body in honey and glitter, glue a cone to my forehead, and sprint NAKED through the streets of New York declaring Kristaps Porzingis the Azor Ahai of the Association sent to save the Knicks and lead New York through The Long Night.
The Knicks… The New York Knicks… are now 6-4. Winners of three straight and six of the last seven. They're tied for the seventh best record in the NBA and third in the East. They've won two straight games on double digit fourth quarter comebacks. KP is a legitimate MVP candidate (at the moment). The Garden is electric every goddamn night. Things are awesome.
Will they keep it up? Of course not. But that doesn't mean we can't take a few things away from this ten game stretch:
KP is–at worst–a legit number one scoring option and elite rim protector with crunch time chops. And has already bumped his ceiling up a significant amount with what we've seen so far. What is that ceiling? I don't even know anymore because I can't see that high.
Frank Ntilikina is going to be awesome. Offensively he's doing exactly what he should – he's playing within himself and not trying to do too much. You'd like to see him attack more, which I think he will as he gets more comfortable. But for now we're seeing a kid with poise who moves the ball and understands what his role on this team is. Most importantly, though, he's already a goddamn revelation on defense. He's ferocious. He fights over screens. He's long as all hell. He can switch onto almost anyone. And he's given this team a combination of energy and talent at the top of the defense that we haven't seen in YEARS. All of the tools–especially the motivation–are there for Frank to be a defensive ace.
These guys really like each other. And while I don't want to sit here and just mindlessly bash Melo – who I like and who I think these guys all respect – it's pretty goddamn obvious how much fun these guys are having moving the ball and growing up together. Melo didn't fit that blueprint. That's fine. The trade was good for all parties even if the Knicks got nothing in return.
But they did… and Doug McDermott is juuuust smart enough to offset his defensive limitations that we might've gotten a quality rotation player in McBuckets. I already consider the Melo trade a win simply for getting a fresh start. If they can flip Kanter for something at the deadline and hit with that second round pick, that's all gravy.
These guys like McDermott, O'Quinn, and Lance Thomas will never be rotation pieces on contenders… or even playoff teams. But they're playing their asses off right now and make this team so much fun to root for.
I really hope some contender notices how solid Courtney Lee has been. 10-4-3 a night. Shooting 40% from three. Playing quality defense. Selfishly I want to get an asset back for him. But I really do genuinely want to see him get rotation minutes on a real contender while he's still playing at this level.
BLOCK PARTY. Call the neighbors.
Dougie McBUNNIES
---
Chicago 114  –  Toronto 119
Toronto  (6-4)
Chicago  (2-7)
Bobby Portis returned from his 8 game suspension for literally breaking Nikola Mirotic's face with a big time 21-13-4 line on 8/13 shooting.
It'll take a little time for Portis and Lauri Markkanen to gel together. Portis's return limited Markkanen to just 6 shots – his lowest total of the season. But the Bulls might have a nice little inside-outside big man combo with these two to build on.
The Raps did hold on here though, staving off a Portis and the Bulls' big fourth quarter run for a five point win thanks to 24-4-4 from DeRozan and 21-10 from Valanciunas.
---
LA Clippers 107  –  San Antonio 120
San Antonio  (7-4)
LA Clippers  (5-5)
The still Kawhi-less Spurs got 25 from LaMarcus and 22 from Rudy gay to move to 7-4 on the year
I love Kyle Anderson's game so much. So much craftiness and juuuust enough height to offset the physical limitations. You run pickup with Kyle Anderson at an open gym you're not leaving that court for two hours. Somehow… somehow that's translating to the goddamn NBA – and god damn is it beautiful to watch.
The Clips, meanwhile, have come tumbling back down to .500 after a 4-0 start. That's three straight L's–their fifth in the last six–heading into a tough five game stretch (@OKC, @NO, PHI, @CLE, @CLT) over the next ten days.
---
Brooklyn 104  –  Denver 112
Denver  (6-5)
Brooklyn  (4-7)
The Joker… was not kidding around tonight.
I'm sorry just watch the highlights
---
Philadelphia 104  –  Utah 97
Philadephia  (6-4)
Utah  (5-6)
No Embiid, no problem for the Process Sixers. JJ Reddick remained hot with 20 points on 5/12 shooting. Dario Saric had his best game of the season, going for 25-10 on 5 threes. And Ben Simmons continues to rampage through the league with 16-13-6-3-3 to bring his averages up to a preposterous 17.8-10.1-8.0 on the season.
How preposterous are those numbers? Historically preposterous. I don't understand how this could possibly be so… but it is. And this is all while he's still miles away from having a respectable jump shot.
Philly has now won five straight, with Sacramento on Thursday and a fascinating litmus test in Golden State on Saturday. Golden State has historically struggled with teams that have two bigs. And while Simmons doesn't necessarily qualify as a traditional big, it'll be fascinating to see how they play him and Embiid. Should be a fun one.
---
Memphis 98  –  Portland 97
Memphis  (7-4)
Portland  (6-5)
Memphis took one late in what felt like the tenth straight down-to-the-wire game in Portland over the last week. I don't know what it is… the pacific northwest fans, the non-Cali west coast time slot, the up and down play of the Blazers, the complete 41-41 mediocrity that makes them competitive with everyone, the clutch, big game feel of Dame and CJ… I don't know. But whatever it is that makes every Blazers home game fourth quarter so wildly entertaining is just the absolute best. And now that Golden State is… well… Golden State, they've easily become the most fun late night West Coast team.
Even when they come up short…
Also fun… Marc Gasol, always and forever.
When you see shorty coming out the nail salon double cheeked up on a Thursday afternoon hella ass with the sun still shining and then realize it's Caleb Swanigan.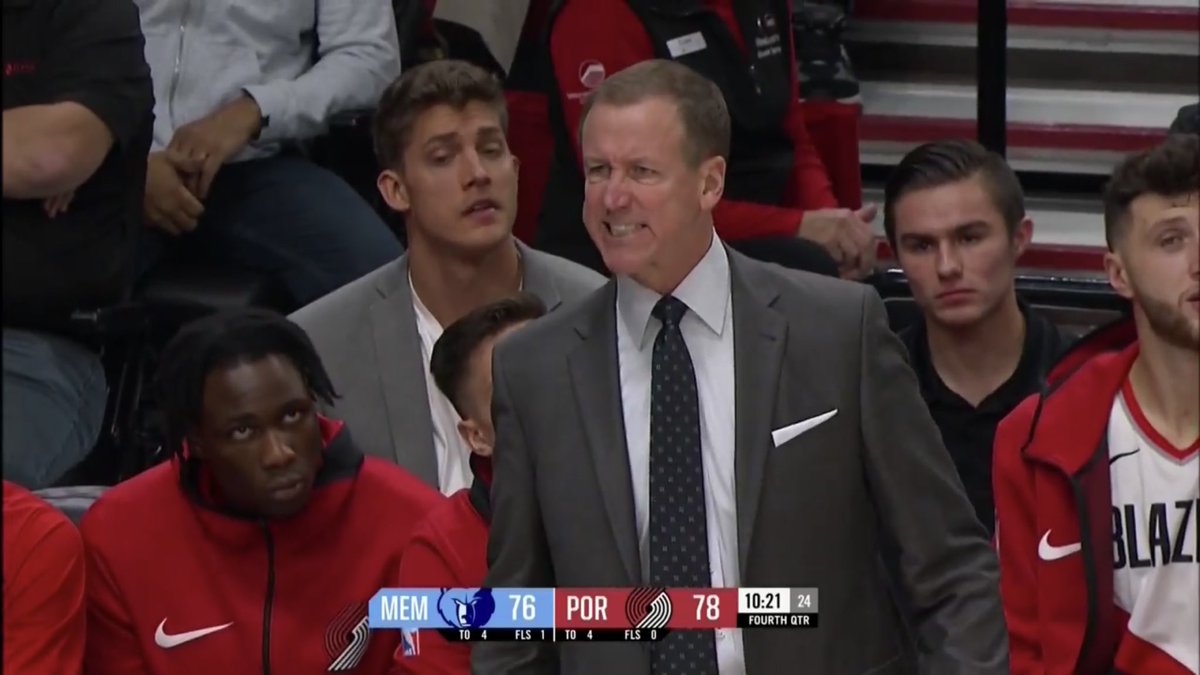 ---
Oklahoma City 86  –  Sacramento 94
Sacramento  (2-8)
Oklahoma City  (4-6)
The young guns De'Aaron Fox (10-8), Buddy Hield (21-7), and Justin Jackson (16-4) showed out off the bench to lead the Kings back in the second after a disastrous 10… (TEN!) point first quarter. And the old god Z-Bo took control late with 18-8 to secure just the second win of the year for Sacramento.
De'Aaron flashed that outrageous athleticism with the hammer here.
OKC is now down to 4-6 on the season with thee straight L's. I'm gonna reserve judgement on them for next week. They've got a three game stretch at San Antonio, at New Orleans, and home for Golden State starting next Friday that should give us an idea of where they're at. But it would be nice to see them get off the schneid with a big road win in Denver on TNT Thursday.
Russ. Russ is amused with any concerns.
---
Around The NBA
The Eric Bledsoe saga is finally over in Phoenix. He's headed to Milwaukee for Greg Monroe and a heavily-protected First and Second Round pick.
I love the move for the Bucks. Absolutely worth the risk for that small a price. Bledsoe fits right into that point guard slot and allows Brogdon to shift over to the two. If Bledsoe can adjust to playing more off ball–while also developing a two man game with Giannis–that's a devastating addition to an offense desperately in need of a shot in the arm.
He's an awesome defender when engaged, and could be an absolute monster on the perimeter in that system. And even at just 6'1″, his 6'7″ wingspan, strength, and athleticism more than make up for it.
It's a huge offensive addition on the perimeter without sacrificing the length and switchability that Jason Kidd wants from his defense. And with Bledsoe-Brogson-Middleton-Giannis-Maker you've got three guys capable of creating their own shot surrounded by two shooters. It might take some time to gel. But I think in the long run this make Milwaukee a significantly greater threat in the east even before we discuss what happens when Jabari Parker returns in February.
And hey, look at that… they play San Antonio on ESPN this Friday. What a stage to step onto.
---
Was LeBron sending a message to Cleveland management for not persuing Eric Bledsoe harder? Well, it hard to say
---
LiAngelo Ball and his UCLA teammates could face 3-10 years… YEARS… in prison if they're convicted of shoplifting in China. I have absolutely no idea what  could happen here. But what I do know is that Donald Trump is in China as we speak and it really seems like we're on track for a Trump-LaVar collision that would almost certainly guarantee to me that we are living in a simulation like Elon Musk said.
Alright so anyway. See you guys tomorrow.
---
Schedule for Wednesday, Nov. 8th
7:00   New York  @  Orlando
7:00   Indiana  @  Detroit
8:00   LA Lakers  @  Boston   ESPN
9:00   Miami  @  Phoenix
10:30   Minnesota  @  Golden State   ESPN
---
---