Follow on Twitter @yourboyham11
Like on Facebook What's The Action
---
The Process shines in Philly. Monk, Markkanen, and Mitchell put on for the rookie class. Flat Earth Kyrie and the Celtics stay hot. And the Magic–the Orlando f-ing Magic–join Boston with the best record in basketball. It's the Ham's Hoops Roundup for Thursday, November 2nd. Let's get it…
---
Scores from Wednesday, Nov. 1st
Milwaukee 121  –  Charlotte 126
Indiana 124  –  Cleveland 107
Atlanta 109  –  Philadelphia 119
Phoenix 122  –  Washington 116
Sacramento 86  –  Boston 113
Chicago 91  –  Miami 97
Houston 119  –  New York 97
Orlando 101  –  Memphis 99
Minnesota 104  –  New Orleans 98
Toronto 111  –  Denver 129
Portland 103  –  Utah 112 (OT)
Dallas 98  –  LA Clippers 119
---
Milwaukee 121  –  Charlotte 126
MALIK MONK!
25 points on the night. 5 threes. And an EIGHTEEN point fourth quarter from the rook.
Coming out you knew he had the potential for nights like this. Whether or not he becomes a consistent top-end scorer or instead veers toward heat check sixth man guy – time will tell. But games like this, against an aggressive and freakishly long Milwaukee defense, are a great indicator of the former. That's elite NBA scoring ability he just showed. Hell of a night kid.
And while I'm still excited about what Frank Ntilikina can become and truly do believe he's going to be a great player one day, this is one of what will probably be a lot of games over the next few years as Ntilikina develops that will leave Knicks fans longing for what could have been with Porzingis and Monk lighting up the Garden together. In the long run Frank's defense (see later this blog), consistency, and versatility is something the Knicks drastically need and a safer foundational bedrock. But god damn man – Malik Monk could have lit up the Mecca in a truly special way.
Kemba also poured in a super-efficient 26 on 8-12 shooting to continue a scorching hot start to the season. This is a sneaky fun and really well balanced Charlotte team that's still without arguably their best player in Nic Batum. That's three straight impressive wins to bring them to 5-3.
Monk's fourth quarter spoiled a career night for Khris Middleton – who dropped a cool 43/5/7 on 15-28 shooting with 5 threes of his own. I still think the Bucks are one more top-40 guy away from that upper echelon of the east – a spot that could possibly be filled by Eric Bledsoe. But I'd love to see Middleton take another step forward this year.
Giannis, as will now forever be the case, still did some Giannis things in a loss. Inducing a big time #BusinessDecision from Dwight here
And taking it between the pasty arms of Frank the Tank and Cody Zeller for a big time finish.
---
Indiana 124  –  Cleveland 107
The Cavs look like shit right now. But it's also right now. Right now as in November 1st. Yes they're old and their defense stinks and they don't have an ideal lineup and yada yada. We've been down the Cavs panic button road too many winters for me to care about them in the fall. It literally just got cold this week.
Come read the Hoops Roundup for all things NBA. All things except the pushing of the Cavs panic button while we're all still housing Halloween candy at 3am. There's more pressing topics…
…like Born Ready chopping at Bron Bron's dick
Folks I haven't seen a unit get hit like that since Randy Johnson retired. Thanks please forget that joke and keep reading.
And hey speaking of way too early let's all make a pact now to not get sucked into the Jeff Green resurgence(/emergence?). Not now. And actually while we're at it… not ever.
---
Atlanta 109  –  Philadelphia 119
TRUSTTTT
THEEEEE
PROOOO-
CESSSSSSSS
19/13/9 from Simmons. 21/12/6/3/3 from Embiid. Atlanta might actually be the worst team in the league so we won't dwell on this one. But the fact that these two are just scratching the surface right now is truly, truly terrifying.
Every Philly sports fan who knows none of this good fortune and prosperity will last and is just enjoying the ride before things go miserably wrong can I get a WHOOP WHOOP?
*WHOOP WHOOP*
"Ankle breaker from Luke Babbitt" is such a preposterous concept that it's not even programmed into 2K for the announcers.
---
Phoenix 122  –  Washington 116
Have a night T.J. Warren!
40/10 on 16-22 shooting to lead a MONSTER 22 point comeback for Phoenix after falling behind early.
Devin Booker went for 22/5 of his own
And Mike James (10/4/6) continues to impress as the replacement for Eric Bledsoe as the Suns take back-to-back games over Brooklyn and Washington to bring them to 4-1 since canning Earl Watson.
Brad Beal went for 40 of his own in what I'd imagine was an all-time lookahead loss for a Washington team intently focused on a statement game against Cleveland on Friday. That one's gonna be fun.
---
Sacramento 86  –  Boston 113
Kyrie (22/5 with 4 steals and 4 threes on 8-17 shooting), Jaylen Brown (22/6 with five threes on 7-8 shooting), and the C's continue to roll through the league, now winners of six straight on their way towards a big time game Friday in OKC.
A lot is being made of the chemistry between Flat Earth Kyrie (more at the end of the blog) and Al Horford (with a very Al Horford line of 7/7/6) – as it should. Six games in and they're playing like they've spent the last six years together. Go through the list of guard-big partnerships in the NBA and you could really make a case that only Steph-Dray and Conley-Gasol have better chemistry right now. As an NBA fan it's beautiful to watch.
But what's almost equally impressive is watching the way Jaylen Brown plays off of them. The spacing of Boston is incredible. And Jaylen is finding his way into the right spot time and time again and being rewarded for it. Losing Hayward, no matter how you spin it, was a bad thing and left Boston worse off. But that doesn't mean it's not a good thing for them that Jaylen has been forced into a bigger role. Juiced to see what he can do against Paul George on Friday.
Daniel Theis–next in a long line of irrational Celtics fan love affairs–had himself a night with his first career double-double – going for 10/10 on 4-7 shooting with a nice little reception on this Marcus Smart lob. One of 8 assists on the night from Smart.
---
In the midst of a major blowout and after the whistle was blown, Vinsanity did give us a nice little dose of nostalgia…
---
Chicago 91  –  Miami 97
Lauri Markkanen posted a career night with 25/8 and continues to impress. Save for Ben Simmons you could very well argue he's been the best rookie in a standout class two weeks into the season.
But the Heat got 19 off the bench from Tyler Johnson to help Dragic (20/5/6) and Whiteside (13/14) take down Chicago to hold a three game losing streak
Kris Dunn impressed off the bench in his second game of the year with 11/7/5 and a FEROCIOUS dunk on Kelly Olynyk that will surely earn him some "goofy, lanky, accidental" retribution next time they meet.
---
Houston 119  –  New York 97
New York came out hot early behind Porzingis (19/5/3) and Hardaway (23/7/4) and jumped out to a first quarter lead with some nice ball movement
But Houston went on a 16 point run early in the second. Harden went for 31/5/9 with 6 threes. Gordon and Anderson combined for 38. And the Rockets just absolutely bombed from deep, hitting 19 threes on FIFTY TWO attempts which led to a 36 point second quarter and 40 point third quarter to cruise to a 22 point win.
Chris Paul showed up in the Psychiatrist at a Social Event fall fit.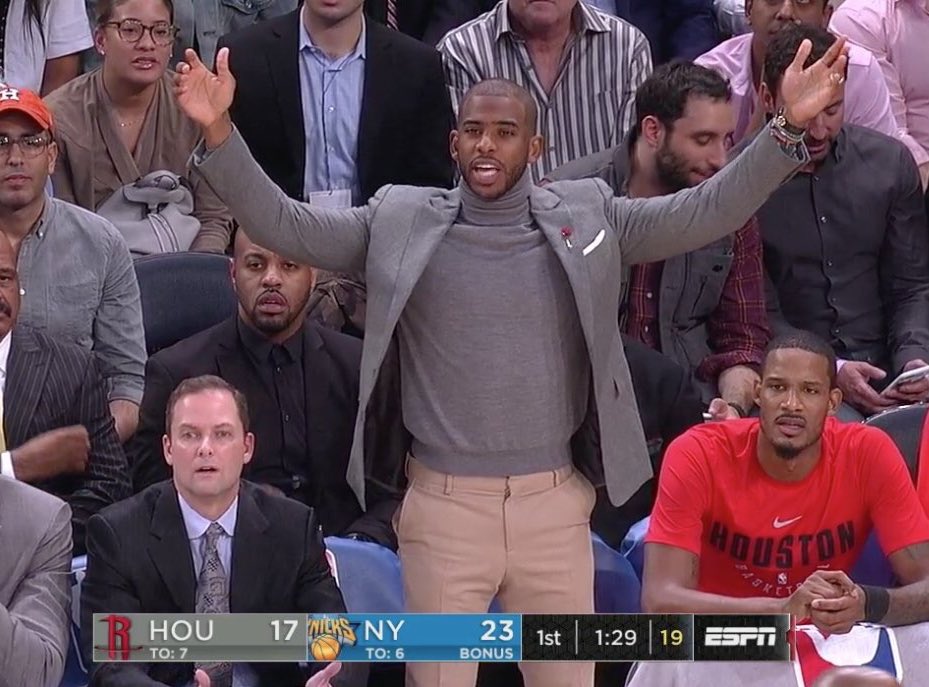 Despite the loss, the Knicks got some real encouraging flashes from Frankie Smokes who tallied 8 assists and 5 steals and worked his ass off defensively on Harden when he had the chances. The scoring will come. But that passing and defense is great to see. And a nice come back to earth loss like this was a needed reality check for a Knicks team that will hopefully continue to play Frank more and more as the season goes on.
And also this fun little moment as Damyean Dotson send Tarik Black tumbling to the floor.
---
Orlando 101  –  Memphis 99
This game gets the Full Highlights treatment. Absolute barn burner from what I'd pretty easily call two of the most unexpectedly good teams this young season.
That leaves us with one big question — DO YOU BELIVE IN MAGIC?
15 from Ross. 22/8 from Fournier. 19/7/2/2 including this go-ahead-don't-look-back DAGGER from Aaron Gordon.
And all of a sudden the Magic… the Orlando freaking Magic… are sitting right at the top of the whole damn league at 6-2.
I don't know if I'm ready to jump all in here. But god damn if I won't enjoy the ride right now. This team is fun. Aaron Gordon is startling to look special. Jonathan Simmons is yamming on dudes from damn near Tampa Bay. And yes… again… the Orlando Magic have the best record in the NBA.
Memphis was without Mike Conley tonight, but got a huge effort from Tyreke (32/3/4/2 with 4 threes on 12-20 shooting) in the loss
And got a little flare from Andrew Harrison and Headband Rio here
Folks I haven't seen Chandler Parsons rejected like this since Hailey Baldwin said they were just friends after being spotted at brunch a few months ago. This has been HHR TMZ.
---
Minnesota 104  –  New Orleans 98
Jimmy Butler poured in 23/4/2 with 3 steals
And carried the Wolves on a night where Karl-Anthony Towns scored just 2 points on 1-7 shooting and looked like the skinny little fourth grader getting tossed around in the backyard by his two post-pubescent older brothers Anthony (24/20/6/3/1) and DeMarcus (35/9/6/6/3)
I like Kat. I know KAT is special. And despite his ATROCIOUS defense (that is always conveniently overlooked when comparing Towns and Porzingis), I trust that KAT will figure that out and grow into a top five NBA player. But right now Towns is at least one full step behind Davis and Cousins in the Best Big Man discussion.
While we're on the topic… Ranking the top NBA players is impossible. But what I do see at the top are certain tiers.
Tier 1 is LeBron, Durant, Kawhi. They're the three best players in the game because of 1) their capability of elite play on both ends, 2) their ability to physically dominate and take over the game, and 3) their resumes in the biggest moments. I don't think anyone argues that top tier.
Tier 2 is the Steph, Russ, Harden, AD, and Giannis group. These guys are all really just missing one of those traits. Steph, Russ, and Harden because of their defensive limitations. AD and Giannis simply because they haven't gotten the opportunity yet. Boogie is riiiiight on the border here, but I need one playoff appearance to push him in.
Towns is still in Tier 3 right now, alongside Boogie, Draymond, John Wall, Paul George, Jimmy, Klay, and Kyrie in some order. Blake is probably back in this group now, and CP3 is probably still there, but they're on the border. Apologies to Conley and Gasol who probably like it better without the recognition anyway, and also to Gordon Hayward's ankle (yikes)
Also while I'm here I'm more than ready for Porzingis, Embiid, and Simmons to jump up into Tier 3. I'm not gonna jump the gun yet. But if they're still at this level by Christmas they're in. BOOK IT.
---
Jamal Crawford. Still doing the most Jamal Crawford of things.
---
Toronto 111  –  Denver 129
Denver routed Toronto behind 24 from Jamal Murray, 20 from Millsap, and a near triple double of 8/16/10 that is pretty much the perfect Nikola Jokic stat line.
And Nuggets twitter had themselves a night with some prehistoric puns at the Raps expense.
Clever girls.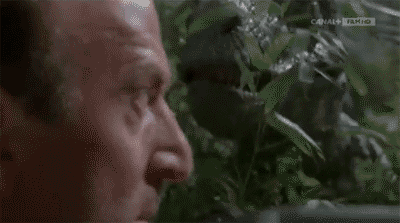 Also this tweet really got me. I'm so pathetically attached to my phone that I went to the Falcons-Jets game in a goddamn monsoon and still couldn't stop checking my phone. And the most pressing thought in my head that whole game was "You know it's not talked about enough that players just don't check their cell phones for like four hours every Sunday. That's crazy to me."
Jesus christ I'm such a loser.
---
Portland 103  –  Utah 112 (OT)
Very, very fun fourth quarter from Portland and Utah in SLC punctuated by a game-tying put back and subsequent game-saving block from the Stifle Tower that sent it to a Jazz-dominated Overtime.
Portland for 33/10/8 from Dame and and Utah got a very uncharacteristic 30 points with only 1 assist from Ricky Rubio – who's scoring is up from 11.1 to 17.5 a game and assist totals are down from 9.1 to 6.5 through eight games as a Jazz (as a Jazzer? Wait no that looks– yo these singular team names are forever the worst). The fourth quarter highlights are worth the rewatch…
But the star of the night was the rook Donovan Mitchell, who went for 28/6/3 in 35 minutes off the bench to make up for a goose egg on 0-11 shooting from Rodney Hood. The kid is totally unafraid out there.
---
Dallas 98  –  LA Clippers 119
The Clips rolled to an easy win over Dallas to close out the night.
Blake went for 20/6/7 and showed off the handles.
Danilo went for 14/6/4 of his own
And Lou Will spurred a 10-0 run in the second quarter that Dallas never recovered from
Montrezz Harell even got in on the action with 8/8 and one laughably easy rejection of DSJ in the middle of that 10-0 Clippers run.
YEET.
---
Around The NBA
Jahlil Okafor isn't going full Eric Bledsoe. But has made it know to Philly that he wants out. Interested to see what kind of value Philly can recoup for the dude they picked over Kristaps Porzingis just two and a half years ago. Think about that. Middle of The Process, collecting any assets they could, and they picked "NBA Ready" Jah Okafor over the Latvian Unicorn God KP.
Yeeeeeesh.
I thought Kyrie was trolling. I was convinced that this who Flat Earth semi-crusade was a bit he was running.
Kyrie has always seemed to view the whole climate of NBA media attention with a sense of bewildered amusement that bordered on pretentious. Watch the way he responds to questions and you see a guy who still doesn't totally get what role the media serves – or at least why that role is so large – and could not care less about answering the questions he's forced to answer.
From all the things you hear, Kyrie considers it all meaningless and just cares about basketball. Sure, there are hundreds of players with that mindset. But rarely are those players so talented and thus prominent. And even rarer are those players caught in the LeBron James vortex. Kyrie has had to deal with fully packed locker rooms in January and countless TV segments and en endless barrage of media attention for the last few years. I still hold that that–more than "wanting his own team" or "not wanting to get left by LeBron next year" or "not wanting to live in Cleveland" or whatever–is why he wanted out. He was tired of the media. And while that's going to follow him everywhere, nothing compares to the "on LeBron's team" media. Nothing.
That's why I thought this was a bit.
I was convinced that Kyrie was simply toying with an NBA media universe that he found bewilderingly useless. He was running a bit by himself, for himself, just to see how much he could affect everyone with such a meaningless
But man… at this point… I'm at least starting to entertain the possibility that Kyrie is just an insane human being. I'm not there yet. But this is a long long time to keep up the bit. You only continue to bring it up if you're truly doing some kind of performance art or if you actually believe it.
The space cadet quotes like this. They don't help.
Of the utmost concern though is Red Panda, who dropped the bowls for the second time this season. I'm not ready to hit the panic button yet. They bumped the start of the season up and I'll just assume that threw off RP's mojo. But one more drop and we might have to get a little tiny bit concerned.
---
And that's it. Only the two TNT games on the slate tonight between a 12 game Wednesday and a 12 game Friday. Spurs-Warriors is always great, even with Kawhi. And it should be a fun up and down game in Portland with the Lakers in town. See you back here tomorrow.
Schedule for Thursday, Nov. 2nd
8:00   Golden State  @  San Antonio   (TNT)
10:30   LA Lakers  @  Portland   (TNT)
---
---