Follow on Twitter @yourboyham11
Like on Facebook What's The Action
---
---
Scores from Sunday, Oct 21st
Minnesota 115  –  OKLAHOMA CITY 113
BROOKLYN 116  –  Atlanta 104
New Orleans 119  –  LA LAKERS 112
---
Game Of The Night: Minnesota 115 – OKLAHOMA CITY 113
I was really looking forward to this OKC-Minnesota matchup. Two completely refurbished teams. Oodles of starpower on display. Weak benches, meaning high minutes for those stars. Fascinating cross-matchups all over the court. Same division. With a very real chance at a playoffs matchup come April.
And god damn did it live up to the hype. Game of the year through this young season without a doubt. And one that showed the Big Three… and really the Big Four of both teams on full display.
Russ put on a stereotypically Russ performance of 31-5-10.
Jeff Teague countered with 19-6-9, his first standout game in Minnesota. Towns (27-12) and Adams (17-13) went to war down low in what was as fun a big man matchup as you'll see in this league.
Melo was awesome again for OKC, pouring in 23 on 9-19 shooting including the presumptive game winner
Jimmy Butler went for 15-6-6, but worked his ass off defensively switching between Melo and George before checking Russ down the stretch. Paul George, despite his worst scoring night as a Thunder, still filled it up with 14-8-6 with 4 steals.
But in a game with four of the top twelve players in the league and a future Hall of Famer on the court, nobody's star shone brighter than Andrew Wiggins. 27-7-4. 2 steals. Impressive defense on Paul George. Some monster shot making down the stretch, including a Melo-esque spin move between Westbrook and Adams to the hoop with 1:43 left.
All culminating in this…
Did Andrew call bank, Karl?
I love the NBA. Here's the full ten minute highlight for anyone who was watching that thrilling Patriots-Falcons blowout.
---
D'Angelo Russell put up 16-7-10 to continue his hot start for the fun (really) and high-octane (really) Nets. They've now scored 140, 126, and 116 over their first three games on the way to a 2-1 record. Granted, on three of the five worst teams in the league. But that's fine. This team is motivated, well coached, and amazingly enough, a fun basketball team to watch.
DeMarre Carroll and Trevor Booker have been awesome so far. Allen Crabbe and Chris LaVert both had their best games of the season last night. And while it's only been three games. D'Angelo has showcased all that talent we expected when he was drafted with the second pick just three years ago. He can score the ball, he's got vision, and there's a flair to his game that he really never fully got to showcase in two very weird years in LA. If they can swing one more "give us good player X and we'll swallow a bad contract" move away from being right there on the edge of the eight seed.
---
A near triple double of 22-11-8 from Boogie. 27-17-3-3 from AD. Another combined massive effort from those two that finally led to a win for New Orleans thanks to some much-needed help on the perimeter in the form of 14-5-6-4 from Jrue Holiday, 19 from E'twaun Moore, and 14 off the bench from Ian Clark.
But it was newly acquired Jameer Nelson's big shot down the stretch that sealed the deal for New Orleans just one day after signing with his new team.
Adding another point guard in Nelson adds to how weird this roster already is, and will likely create even more of a logjam when Rondo returns next month. But he's a strong veteran presence and a gamer that this Pelicans team needs. So long as Holiday and Clark can adjust to playing even more off ball, that's a great signing.
Lonzo and the Lakers mounted a comeback late with a 23-5 run but couldn't seal the deal.
Kyle Kuzma had his best game of the year with 20-6 in 30 minutes
And KCP matched that number on 7 of 11 shooting in his Lakers debut
Lonzo dropped 13 dimes, but struggled shooting (3 of 13) after going for 29 at Phoenix on Friday.
I'm rooting for the Ball's. I hope LaVar succeeds in this wild endeavor. I hope Lonzo is great. I hope LiAngelo makes a ton of money like Cooper Manning. And I don't even like LaMelo but I hope he makes it too.
LaVar might just want to chill and lay low for a minute.
I know Lonzo was great Friday. I know he played decently last night despite a poor shooting effort. But LaVar talking that talk before his son runs up against Gang Sign John Wall is just about the most dangerous thing a father could do. T's a P's to Lonzo on Wednesday.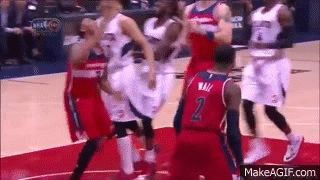 ---
Also speaking of Phoenix… what a goddamn mess this team
Earl Watson out the door after an 0-3 start and another 40+ point loss. That news came an hour after Eric Bledsoe said… well, pretty frankly… that he didn't want to be in Phoenix.
He was sent home from shoot around this morning, won't play tonight, and it looks like he'll be traded within the next day or so. So yeah… things are looking good in Phoenix!
Assistant coach (and head coach of Team Canada) Jay Triano will take over in the interim
---
I am Ham I am a 25 year old man and I plan on having the exact same birthday party as LeBron's three year old daughter. Happy Birthday Zhuri, I am jealous.
---
And remember, always be able to laugh at yourself, kids
---
Schedule for Monday, October 23rd:
(Two Ham watch games in bold)
7:00   Philadelphia @ Detroit
7:30   Atlanta @ Miami
8:00   Memphis @ Houston
8:00   Charlotte @ Milwaukee
8:30   Golden State @ Dallas
8:30   Toronto @ San Antonio   (NBATV)
9:00   Washington @ Denver
10:00   Sacramento @ Phoenix
---
---