Follow on Twitter @yourboyham11
Like on Facebook What's The Action
---
I love the NBA. Love it. Always have always will.
But yo this league needs to chill on the stories right now. We're like four days away from training camp. Four days. And yet here we are on a very casual September Friday and I've gotta roll out a Hoops Roundup just to cover everything that's happening.
We'll save the big stuff for the end.
The Perks Of Being An Enforcer
Not the biggest NBA news but undoubtedly the biggest NBA Twitter news of the day came from this picture… which got basketball twitter simply aflutter at the thought of the Perk man's return.
And just a few short hours later that was born out. Because why settle for just Richard Jefferson, Derrick Rose, Jose Calderon, Channing Frye, Jeff Green, and Kyle Korver when you can add another washed vet in the mix.
Jokes aside I like the move. Getting Perk the vet (certainly not Perk the player) in there, likely as he transitions into a coaching role, will be good simply just to have another highly respected guy to forcefully tell everyone in the locker room to shut the fuck up during those handful of Cleveland swoons that happen every season.
---
Oh Hey… Look Who Happened To Like That Picture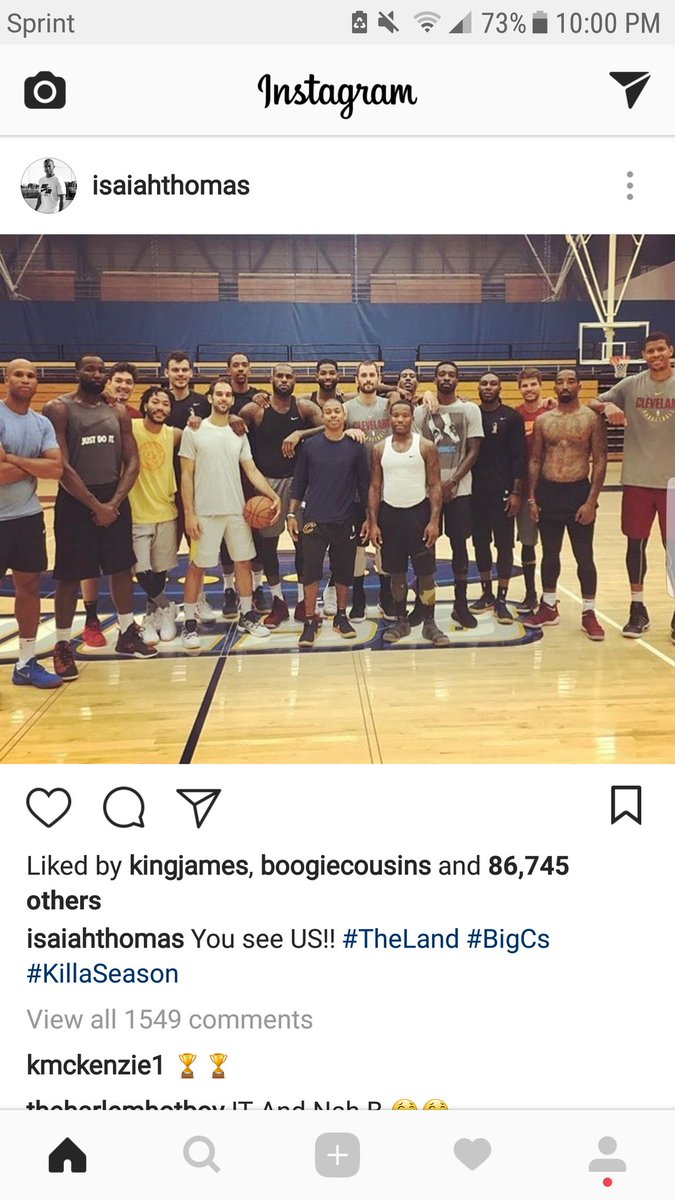 hmmmmm… INTERESTING
---
Goodbye Hoodie Melo. Hello Again, Never-ending Trade Talks Melo. Goddammit. 
The Summer of Hoodie Melo was great for a number of reasons. You know what the best part was? Hoodie Melo distracted us all from the never-ending Knicks Melo trade saga. For the first time ever, we all had a reason to discuss Melo without it turning into trade talk or iso talk or selfishness talk. It was just a fun little running joke that Hoodie Melo was the best player in the NBA and that was it. Now all that talk is back. Now we're gonna get three weeks and probably three more months of Melo trade talk.
Jesus christ these next three weeks are gonna be circus.
I already miss Hoodie Melo.
---
Mike Beasley Knows What Time It Is
I love this league so much.
---
Ian Eagle Takes Very Detailed Notes
Kind of fascinating to see this. One of the two or three best play-by-play guys in the league–and when you add in the NFL work, arguably a top three play-by-play guy in all of sports–and he still writes out and grids his prep sheets like the kid who would fit every last note onto a cheat sheet for an AP Chem final.
God damn remember the cramps you'd get from writing that small? Brutal. And you'd always end up writing entirely too much. Like 90% of what you'd write would be useless and it would make finding the useful stuff that much harder. School was the WORST am I right folks hahaha god damnit I miss college.
---
Victor Oladipo Made A Song
Remember when we all thought Oladipo and Domantes Sabonis was an awful return for Paul George? Yeah that's still very much the case. But hey maybe they can offset their eight figure basketball operations losses with a little Victor Oladipo concert series revenue. Songwriting leaves a lot to be desired, but god damn does Vic have some pipes.
---
---
Big Baller Brand Redesigned Lonzo's Signature Shoe. Which By The Way Hasn't Even Shipped
Such a preposterous move that I can't help but love it. Big Var plays by his own rules baby.
---
I Would, In Fact, Call This Shade
Pat Riley still bitter and tossing shade at LeBron? Naw. Not the Pat Riley I know. Don't be silly.
---
NBA Draft Lottery Reform Is On The Way
The NBA is in great shape. It's fun. It's young. It's exciting. It's profitable. It's stable. It's well-entrenched in the fabric of American society.
The NBA is in an awesome place right now.
One of the biggest reasons for that is because both the people running the league and the majority of team owners are smart, logical, socially conscious, technologically savvy, forward-thinking individuals. They care about the players and they care about the fans and they understand society in a way that far exceeds the rest of the sports world.
When there are problems, they fix them. When there are issues, they resolves them.
Tanking and resting stars are two of the very few issues the league hasn't addressed yet. What's going to happen? They're going to address them because they are smart, logical people who understand that listening to and working with fans and players to create the best product possible will strengthen those relationships AND benefit everyone financially.
After next weeks vote we can expect to see a change in the way teams rest healthy stars
And a reform to the lottery that will help further remove the practice of tanking. Even if tanking can't even be fully removed from the game.
Because, again, these people are smart and logical people. It really is as simple as that.
---
Refs Will Crack Down On "Reckless Closeouts" and Players Creating Contact To Get Foul Calls
Again… smart, logical people.
---
---