Follow on Twitter @yourboyham11
Like on Facebook What's The Action
---
---
Scores and ATS Results:
Sacramento 119 – Philadelphia 122   (Philadelphia +3)
Brooklyn 96 – Miami 104   (Push -8)
Orlando 105 – Minnesota 111 (OT)   (Orlando +9)
Detroit 109 – Boston 113   (Detroit +5)
Cleveland 97 – Dallas 104   (Dallas +4)
Memphis 115 – Phoenix 96   (Memphis -3.5)
---
Have A Night Isaiah Thomas
Another insane night for Isaiah. 41 and 8. 24 points in the fourth quarter. Just absolutely murdered the Pistons down the stretch.
We're well past the point where Isaiah "needs to be in the MVP discussion". He's in it. He's a top five MVP candidate at worst. Harden and Russ are still 1-2 in some order, and likely will remain there. But while Durant and Lebron are clearly better players, you could very well make the argument that Isaiah is having a better and more valuable season than either of them. I'll have a full All Star Break Awards blog coming out before All Star Weekend. As of now, Isaiah is third on my list.
Have A Night Boogie Cousins
Yes it was in a loss, but 46-15-5 will always warrant a place in the "Have A Night" section of this blog.
It just really sucks that we missed out on the last opportunity to see Boogie vs. Embiid this season. Their battles are going to be as fun as any one-on-one matchup we have in this league over the next decade.
Have A Night Mike Conley
Career-high 38 points to go along with 9 assists. Took it to a very good defender in Eric Bledsoe all night.
---
Game Of The Night
GOTN
---
Around The Association
– Lebron James had a lot of things to say about Charles Barkley.
ESPN  –  After years of being fodder for Charles Barkley to comment on in his role as an analyst on TNT's "Inside the NBA," LeBron James has heard enough. "He's a hater," James told ESPN of Barkley following the Cleveland Cavaliers' 104-97 loss to the Dallas Mavericks on Monday. "What makes what he says credible? Because he's on TV?"

"I'm not going to let him disrespect my legacy like that," James told ESPN. "I'm not the one who threw somebody through a window. I never spit on a kid. I never had unpaid debt in Las Vegas. I never said, 'I'm not a role model.' I never showed up to All-Star Weekend on Sunday because I was in Vegas all weekend partying. "All I've done for my entire career is represent the NBA the right way. Fourteen years, never got in trouble. Respected the game. Print that."

James, whose friendships with Dwyane Wade, Chris Paul and Carmelo Anthony have also been called into question, recalled watching a 1993 NBA Finals game between Jordan's Chicago Bulls and Barkley's Phoenix Suns and being surprised what he saw on his screen.

"Go watch the '93 Finals when John Paxson hit the shot," James said. "Barkley and Jordan were laughing and joking with each other during one of the games while somebody's shooting a free throw. In the Finals. But, oh, nobody were friends back then."

Bringing up Anthony reminded James of another basketball luminary who has tweaked him this season — New York Knicks president Phil Jackson — and he had a story to share about Jackson as well.

"I went to see Melo at the Garden two years ago when we were in New York," James said. "They played Portland. I went up to a suite at halftime, and Phil Jackson didn't say one word to me."

This fall, Jackson brought up James unprompted in an interview with ESPN's Jackie MacMullan and described James and his close circle of business associates — Rich Paul, Maverick Carter and Randy Mims — as his "posse."

"I'm here to win ballgames and take care of my teammates and take care of my, what's that word, oh, my 'posse,'" James said, animatedly.

"I know he wanted to retire a long time ago, but he can't," James said. "He's stuck up on that stage every week." James then issued a challenge, of sorts. "And if this makes him want to talk to me, the schedule's out there," James said. "He knows every road arena I'll be in. Don't just come up to me at All-Star and shake my hand and smile."
Yes, there are a lot of things to say about this. I'll say them in a separate blog. That's what they call a tease.
---
– Derek Fisher gave a… bizarre interview to Bleacher Report about Matt Barnes. Matt Barnes responded on Instagram: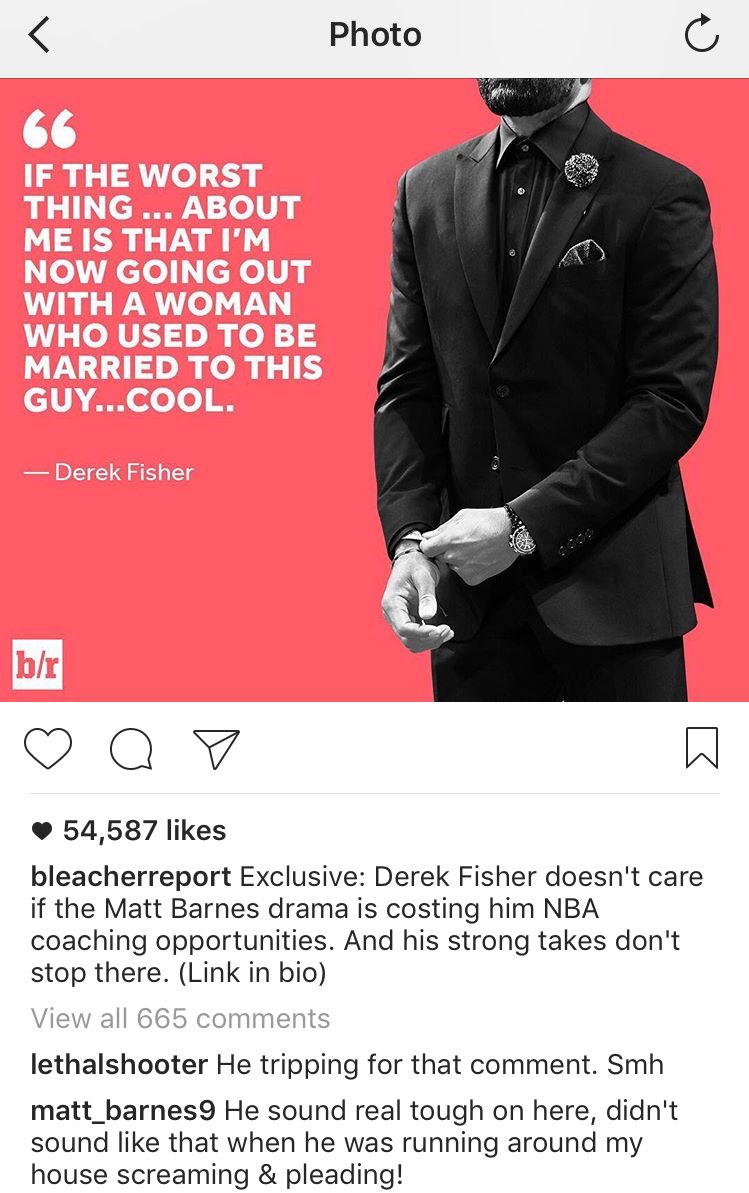 ---
– Dion Waiters… excuse me, I meant to say Eastern Conference Player Of The Week Dion Waiters… threw up a 19-9-6 last night and continues to, inexplicably, carry the Heat further and further away from the top of the lottery. It's actually remarkable to watch
---
– Zach Randolph dunked for the first time in… since… well since the 90's I'd assume.
– Mavs rookie Yogi Ferrell got the call up from the D-League and has very quietly lit it up the last two nights. Keep an eye on him.
– GOT EM
– BAZZY
– Good Job Good Effort Vucevic
---
Schedule for Tuesday, January 31
New York – Washington   (-8)     NBATV
New Orleans – Toronto   (-7.5)
Sacramento – Houston   (-11.5)
Oklahoma City – San Antonio   (-9)
Charlotte – Portland   (-3)
Denver – LA Lakers   (+)
---
---