Follow @yourboyham11 on Twitter and Like What's The Action on Facebook
---
---
Ham's Note:   Pete did a good job with last week's soccer gambling blog. Let's see if he can keep it up. Follow him on Twitter at @PouchesofTuna
---
---
Apparently I didn't do too badly so the Hamburglar asked me to do this little charade again. After Match Week 10 we have a few burning questions:
Is Chelsea really this bad? (maybe).

Is Leicester a serious contender for the top 4? (probably not).

Where does Jürgen Klopp get his glasses? (actually in the market for a new pair and his are kind of dope).
---
Let's take a quick look at the updated table:
---
---
Man City only ahead of Arsenal on Goal Difference at the top of the table after a listless 0-0 draw with Manchester United. West Ham is currently in a Champion's League spot and we have a new last place team! Sunderland finally won a game and Aston Villa takes over as your caboose after 10 games. On to the gambling.
---
Halloween 8:45 AM kick-off:
---
---
Chelsea home to Liverpool
Liverpool: +282
Chelsea: +107
Draw: +264
O/U: 2.5
Chelsea is in total free fall. Jose Mourinho could be fired any day and they've dug themselves perhaps too big of a hole to climb out of for a Champion's League spot (Top 4 in the Premier League get a Champion's League berth). But something's got to give and Liverpool is also a team in flux. Chelsea is plus value to win at home so you have to like that. For Mourinho's sake and every fans' sake, I think they win this week and since they don't like to defend, the over will hit.
Prediction: 3-2 Chelsea
Need the glasses, hate the hair.
---
---
Halloween 11:00 AM kick-offs
---
---
Crystal Palace home to Manchester United
Man U: +105
Crystal Palace: +275
Draw: +240
O/U: 2.5
Wayne Rooney is being heavily criticized in the English media for his dip in form but the dude's an all time legend. If anyone can turn it around it's Wayne Rooney, he pulled the Lebron, before Lebron. What a loser Lebron is. Always the bridesmaid.
On the other side Palace is sliding down the table after a couple straight losses and I don't even think a home game will do the trick for them this week. So go with United and I think goals fly this weekend in most games so the over is nice too.
Prediction: 3-1 United
---
---
Manchester City home to Norwich City
Norwich: +1200
City: -425
Draw: +525
O/U: 3
As I said in the last installment, Norwich City, the lowly Canaries, are wet garbage. Think about the worst kind of things you can have in your trash can, then pour water on it and let it sit for 3 days, that's Norwich City. Man City doesn't have Agüero again but David Silva could return and Kevin De Bruyne has been a revelation. I would say Man City wins by a thousand but that seems low. Bet the over.
Prediction: 5-0 Man City
---
---
Newcastle United home to Stoke City
Stoke: +200
Newcastle: +145
Draw: +225
O/U: 2.5
Newcastle are now second from the bottom and Stoke had a major let down last week against Watford at home. But goddamnit I can't quit you, Stoke. +200 is a great value for a road win against a very sub-par Newcastle team. Under looks good, but really what the hell do I know. I do believe Stoke win if only because Marko Arnautovic is a hero of mine. 
Prediction: 2-0 Stoke
---
---
Swansea City home to Arsenal
Arsenal: -146
Swansea: +361
Draw: +288
O/U: 2.5
A trip to Wales for the Gunners before they head off to Germany to play Bayern Munich in the Champions League is a daunting task. Theo Walcott and Alex Oxlade-Chamberlain both limped off on Tuesday against Sheffield Wednesday as Arsenal crashed out of the Capital One Cup, which is no bueno because the Gunners don't have much depth as it is. Mesut Özil will be back in the fold on Saturday, as will Alexis Sanchez, so I like Arsenal (surprise!) to win but it'll be close. Gunners seem to never play well in Wales.
Prediction: 3-1 Arsenal
Look at that hair. Feathered and Lethal.
---
---
Watford home to West Ham
West Ham: +200
Watford: +140
Draw: +235
O/U: 2.5
The scrappy Watford Hornets. This is their logo, a moose.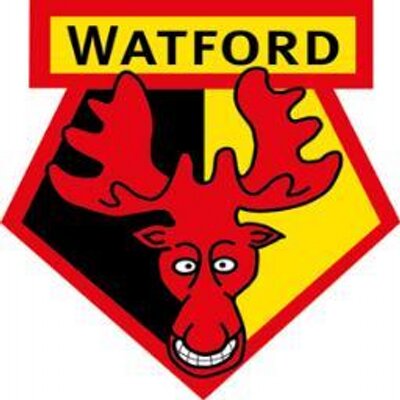 Be stranger, England. Do they even have moose in England? How about moose being the plural of moose? English is a crazy language. Tangent and their decent start to the season aside, I don't see the Moose taking this one. West Ham has been rolling this season under new manager, Slaven Bilic. +200 is great value for a win and French international Dmitri Payet has been fuego all season and he'll continue to do so this weekend.
Prediction: 2-0 West Ham
---
---
West Bromwich Albion home to Leicester City
Leicester: +154
West Brom: +175
Draw: +221
O/U:  2.5
Is Leicester legit? Sort of. Will they win this game? Definitely. West Brom sit directly in mid-table in 10th place and have been in better form recently but I just don't see them betting Leicester, even at home. Riyad Mahrez and Jamie Vardy have been unreal this season and are a huge reason they are in 5th place. Take Leicester and the free money Vegas is throwing around. Halloween should be a day for betting soccer, taking a run at girls dressed as cats, and eating candy until you hate yourself.
---
---
November 1, 8:30 AM kick-off:
---
---
Everton home to Sunderland
Everton: -218
Sunderland: +503
Draw: +303
O/U: 2.5
Sunderland coming off their first win of the season anddddddddd they lose again. Everton probably should have drawn away to Arsenal last week (but they didn't, ha) and they are at home. Romelu Lukaku is a beast of a man well known to Americans as the Belgian who shattered our dreams at the World Cup but c'est la vie. Everton puts it on Sunderland in convincing fashion.
Prediction: 3-1 Everton
---
---
November 1, 11:00 AM kick-off:
---
---
Southampton home to Bournemouth
Bournemouth: +496
Southampton: -201
Draw: +278
O/U: 2.5
Southampton Saints at home on All Saints Day? Talk about the lock of the century. Solid midfield, solid defense and solid attack, sounds like a good team to me. Saido Mane has been in great form this year and he will run rampant against lowly Bournemouth. No value in picking Southampton out right so bet the Over.
Prediction: 3-1 Southampton
---
---
November 2, 3:00 PM kick-off:
---
---
Tottenham home to Aston Villa
Aston Villa: +700
Tottenham: -240
Draw: +360
O/U: 2½ o-25
Bottom of the table and that won't change this week, Villa won't get a result against the Spurs. Harry Kane hit a hat trick last weekend and he could be back to his best.  Don't like Spurs at all but once again I like the over. Tottenham should win outright but I think Villa plays hard this week and give them a game and that Draw line is screaming to me.
Prediction: 2-2
---
---
That's all for me this week. Goodnight and Good luck. Hope Halloween is a great day all around for everyone.
---
People are friends, not food.
---
---
Read more from What's the Action here.
Email me at ham@whatstheaction.com.
Follow on Twitter @yourboyham11.
And Like the What's The Action Facebook Page.